Made in Austria
A story that tells of a canon of values.
A plea for quality, authenticity and sustainability
For austriandesign.at, "Made in Austria" or "Made in Vienna" is much more than a designation of origin, more than a dusty badge with a past-oriented and change-resistant image.
"Made in Austria" is for austriandesign.at A story that tells of a canon of values and has been lived by Karin Merkl since its foundation. Since 2006, the label has stood for "changeable slow fashion knitwear made in Austria".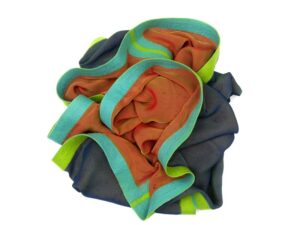 Modern arts and crafts
austriandesign.at started with hand-felted silk scarves, which are made in Vienna using an artisanal technique purely by hand. The oldest textile technique, felting, was brought into the present by means of the Japanese refined version with silk and wool. In a symbiosis of professional know-how of handicraft with contemporary creativity, many collections of scarves, stoles, capes and ponchos are created - a special offer of unique accessories made in the old craft in the new design.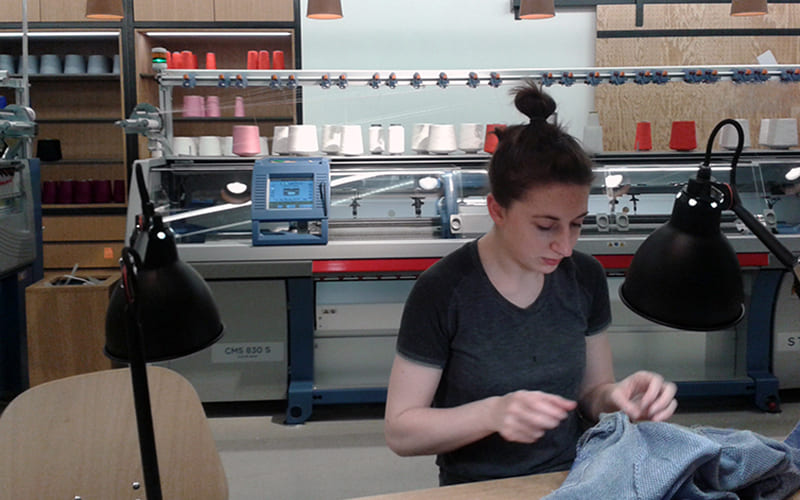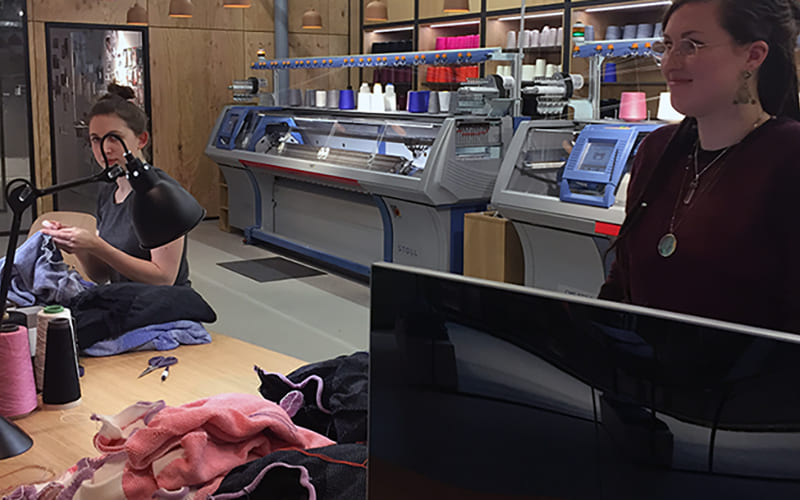 Living knitting craft
Many scarf modifications and interpretations followed in knits for turning, for reversible wearing. The High quality standards for workmanship and material of austriandesign.at is optimally fulfilled in the Austrian knitwear manufactory. Based on great craftsmanship in a loyal cooperation and in a fair social and ecological environment, the following have been created since 2006 Models that in their individuality become real collectors' items for modern individualists.
Sustainability right from the start
austriandesign.at entangles only pure natural fibres, mainly merino wool mottled and extra fine, sourced from Italy - from the best spinning mill in the world. The wool is delivered directly to the family-run knitting mill, where the decades-long cooperation is based on mutual respect, as well as recognition of qualifications and performance. Production close to the head office has the advantage of a closer cooperation and short transport routes - both Good for the climate.
austriandesign.at offers Timeless creations all year round that are simultaneously contemporary and timeless and - this is a specific feature - the collection is growing. All models can always be combined with each other. The models become favourite pieces and are loyal and long-lasting companions in everyday life. Slow fashion in action!
austriandesign.at pursues a Zero Waste Philosophy. Overproduction is avoided thanks to the possibility of smaller print runs, as is waste, as many models are developed from the rectangle. It is also essential that the models have a long life, so they do not end up in the rubbish after one season or are recycled. Living resource minimisation!
austriandesign.at offers a Individual and needs-oriented offeras smaller quantities and great flexibility in production are possible. All models are offered in a wide range of colours and free choice of colour combinations, which means for the trade (B2B) that the Collection offer different in each shop is. The way in which we can react to production demands is also only possible with production in Austria and in a handicraft business that also manufactures smaller quantities. This represents a special added value (USP), which of course has its price. Individuality in action!

"Diversity, tradition and authenticity must be preserved.
It's about products with authentic stories and a comprehensible source,
about cultivating quality and loyal partnerships,
and last but not least, sustainability."
MADE IN AUSTRIA
Philosophy and narrative of austriandesign.at
"Made in Austria" or "Made in Vienna" is for austriandesign.at  Philosophy and narrative that tells of quality, appreciation, diversity and modernity.
austriandesign.at produces timeless, durable clothing of high quality in Austria, in the vicinity of Vienna and in Vienna, with respect for people and the environment.
Austria with its small and medium-sized enterprises, its traditional craft culture and its creative potential offers opportunities to survive in a world of fast fashion, through quality, innovative design, ecology and humanity and to look optimistically into the future. The values of austriandesign.at were published in 2006 in the Philosophy and determine everything that is done, are reflected in the actions and give rise to products of value.
"When fashion no longer runs, quality is in the foreground and determines regional creation, when tradition, skill and design are bundled, then craftsmanship lives. And can satisfy the longing for things with geography and stories. Craft is individuality, far from the masses and the fast pace of life.", says founder and designer Karin Merkl. "It is a counter-movement to globalised, industrial and uniform fashion. It is an enrichment for everyone."
And for me as a designer, a constant challenge to rethink my own work, to renew it and make it available.