Basics
The supreme discipline of fashion design!
Fashion basics have been preached for years. But what was the ultimate basic a few years ago can very quickly be completely off the mark. And yet basics are absolutely necessary and are becoming more and more important if you want to Doing good for the environment wants.

Good basics form the basis for long-lasting outfits.
A good basic can be worn every day for a week without anyone noticing because it can be worn so well in so many different ways. combine lets.
A real basic is minimalistbut not always good value for money. Because a true basic is of such high quality that its simplicity becomes a fashion statement in itself.
A good basic is characterised first and foremost by the fact that it is gladly dressedbecause it makes life less complicated.
Good basics are something very personal. They have to fit the wearer and your body shape. Good expert advice is necessary.
Also Colours are called basic, such as black, white, beige, navy and grey. That makes perfect sense, because they form a good canvas for all the big fashion brushstrokes. Red and pink, mustard or orange can always be integrated somehow cool into a basic wardrobe sorted by colour. But remember: not all colours are the same and not every customer has to have a black jumper, but one that suits at least four occasions.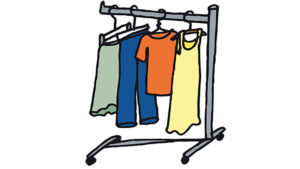 Basics are the supreme discipline of fashion.
You have to pay attention to every detail, no matter how small, when you perfect basic, the survives every crisisdesign and offer it to its customers.
———
Source: Flair, Julia Werner