Why extra fine merino wool?
There are many reasons for wearing extra-fine merino wool.
The wool of the Merino sheep is particularly fine and has a strong crimp. Originally from North Africa, the Merino sheep was later bred in Spain and moved to Australia and New Zealand when the New World was discovered. To this day, Merino sheep, which require a lot of space, live in large flocks and remain in the wild all year round. The best quality and largest quantities come from Australia and are usually processed in Europe.
From sheep to yarn
From Yarn to Slow Fashion Knitwear Collection
The merino sheep is sheared twice a year, the wool weighs between one and five kilograms. The shearing is washed and combed, spun into yarn and twisted in the next step.
We, from the slow fashion knitwear label austriandesign.at, source our extra-fine merino wool in melange or supermelange from Italy. Our suppliers spin locally and are the best there are. Their customers include many of the world's haute couture houses. We have been convinced by the quality since 2006, when we started our Capsule Wardrobe - a collection of favourite pieces for everyday wear that are not ordinary.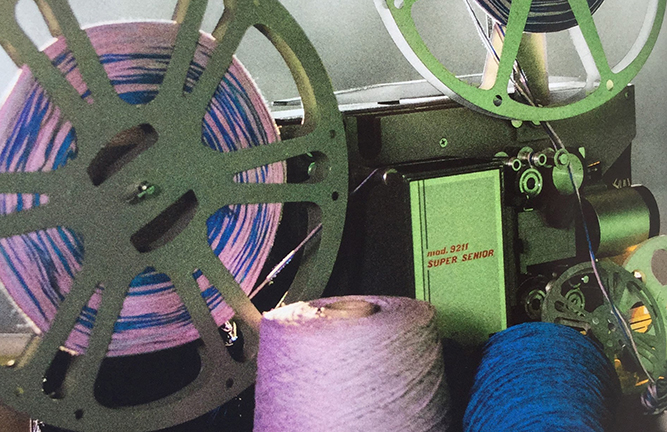 Merino wool has the best wearing properties by nature.
How does that work exactly?
Many advantages speak for clothing made of merino wool! After all, wool is a naturally occurring and renewable raw material, protects against rain, cold (up to -20°C) and even heat (up to +35°C).
A true master in matters Climate management is how merino wool shows itself! The wearer's body heat is trapped in so-called air chambers by the heavily crimped fibres of the wool and thus does not escape to the outside. The warmth is retained and the body does not freeze so easily. The situation is similar at particularly high temperatures. If the body sweats, the moisture collects in the wool and is stored. The resulting evaporative cooling keeps the body at a pleasant temperature, and the warm air from outside dries quickly.
Another very positive property of merino wool is the natural Self-cleaning function. Despite heavy perspiration, there is no unpleasant odour! Lanolin, also known as wool wax, is responsible for this. Lanolin serves as a protection against infections and is slightly antibacterial. This effect prevents odour-causing bacteria from multiplying in sweat. For this reason, it is often sufficient to air out the jumper for care; it does not have to be washed every time it is worn. The lanolin forms a dirt-repellent layer that ensures that stains do not form. Dirty spots can be removed quickly and are not immediately absorbed into the fibre.
Less well known is the fact that wool is capable of storing around a third of its own weight in Absorb moisture while still retaining its warming properties. While moisture is absorbed inside the fibre, the fibre releases water in the form of droplets on the surface. On the one hand, this double function causes the storage of warmth, on the other hand, it also protects against wetness.
Merino wool is itchy!
This does NOT exist with the quality of austriandesign.at
In addition to the smooth surface, the extra-fine quality of the merino fibre with a fibre average of 17 microns ensures that the touch is not perceived as unpleasant. The human sensitivity threshold is 25 microns, a value that is clearly undercut. Scratching or itching is virtually impossible.
Skin-friendliness is guaranteed!
The knitted merino wool from austriandesign.at is ÖKOTEX Standard 100 as well as ISO 9001 certified and thus meets the high standards of the textile industry. STANDARD 100 by OEKO-TEX® is one of the world's best-known labels for textiles tested for harmful substances. It stands for customer confidence and high product safety.
No pilling with extra fine merino wool
The longer the length of the spun wool fibres, the higher the quality of the wool. With extra-fine merino wool, there are almost no protruding fibres that can felt, so the surface of the knit is smooth and pilling can only occur with "friction".
Why is wool, especially extra-fine merino wool so valuable?
There are several reasons for this. For example, there are the properties of the material itself. The fibre is fine, soft, skin-friendly, breathable and light. Merino wool is also hard-wearing and easy to care for. Wool is a natural product. Unlike synthetic fibres, wool is warming. And the feeling of wearing it can't be compared to anything else. You simply feel good in wool. Another reason why it is so valuable: it comes from animals. It takes a lot of effort to obtain wool of excellent quality.
"Hardly any other fibre
offers such a mix
of delicacy, softness,
Comfortable against the skin,
Breathability and
Lightness."
To ensure that you enjoy your high-quality and unique knitted model made of extra-fine merino wool for as long as possible, please follow the care tips from austriandesign.at. If there is a small mishap, we also offer a repair service. Because: Wool is valuable and you want to wear your favourite pieces for a long time!
Quality has its price.
austriandesign.at has a high demand for quality in material and workmanship. The price of merino wool is rising rapidly, by 55 percent in the last ten years! In addition: austriandesign.at manufactures exclusively in Austria and a lot of manual work is necessary in the production, so rationalisation is not possible and: we want to preserve the craft. But this also forms the basis for favourite pieces with history, geography and a good conscience.
In other areas, however, fashion seems to be getting cheaper and cheaper ... It's a paradox. Everything is getting more expensive, but in the case of clothing there has been a real price war in recent years. The consequences for people, animals and nature are now visible. But we want to do something to counteract this devaluation of fashion. Merino wool and slow fashion knitwear are valuable.
The future?
For an increasing number of people, sustainability is becoming an important criterion. They look for and appreciate local production, high-quality natural materials in which they feel comfortable, and quality processed, durable fashion whose design is both modern and timeless. For this, they are also willing to pay reasonable prices. This pleases us gratefully and corresponds to our concept of offering a slow fashion knitwear collection - austriandesign.at very zeitgeisty and that since 2006!